Finding the right place to live is often very difficult. To find a home where you can really feel good takes some time and thinking and certain individual factors and requirements must be met. But where is the right place for a new home? The perfect place should definitely be diverse. And in Alicante you will never get tired of the variety! The Spanish culture, the delicious food, the various festivals, and the beautiful places that Alicante has to offer create a perfect setting for your new home!
In this Spanish town you can not only get a tan on the beach, but also take part in many activities, such as parasailing or a kayak trip. Alicante is also perfect for great day trips! There are countless beaches, bays and towns that you should definitely see.
Apart from the many activities you can do, there is never a dull moment in Alicante. There is a lot of fun, party everywhere, great shopping malls, sports, festivals, the famous international Volvo Ocean Race, etc. The Spaniards prepare for the night with great fireworks and lots of music.
The bars make delicious drinks and the typical Spanish tapas, of which you will not get tired. The many restaurants in Alicante will delight you with the specialties of Spanish cuisine and of course we are in the authentic land for Paella!
Alicante makes it easy to find the perfect place for you. There is something for everyone and meets the most important requirements for your new home! Directly by the sea, in the city center or in a quiet area. Fulfill your dream in the safe, sunny and delightful Alicante!
Den richtigen Ort zum wohnen zu finden stellt sich oftmals als sehr schwer heraus. Um ein Zuhause zu finden, indem man sich richtig Wohl fühlen kann, müssen bestimmte Faktoren und individuelle Ansprüche erfüllt werden. Doch wo ist der geignete Ort für ein neues Zuhause? Der perfekte Ort sollte aufjedenfall vielfältig sein.
Und in Alicante kann man von Vielfalt gar nicht genug bekommen! Die spansiche Kultur,            das        leckere Essen,   die verschiedensten Feste und die wunderschönen Orte, welche Alicante zu bieten hat, bilden ein perfektes Abiente für Ihr neues Zuhause!
In diesem spansichen Städchen kann man sich nicht nur am Strand von der Sonne bräunen lassen, sondern ebenfalls an vielen Aktivitäten teilnehemen, wie zum Beispiel Parasailing, oder einen Kajakausflug. Auch für tolle Tagestrips bietet sich Alicante perfekt an!
Es gibt unzählige Strände, Buchten und Städchen, welche man unbedigt gesehen haben muss.
Auch abgesehn von den vielen Aktivitäten, welche man unternehmen kann, wird es in Alicante nie langweilig. Es gibt viele Feste, wie man sie noch nie gesehen hat. Mit grossen Feuerwerken und viel Musik stimmen sich die Spanier in die Nacht ein. Die Bars bereiten leckere Drinks und die typisch spanischen Tapas für Sie vor, von welchen Sie nicht genug bekommen werden.
Auch die vielen Resaurants, die sich in Alicante befinden, verwöhnen Sie mit den spezialitäten der spansichen Küche. 
Alicante macht es Ihnen leicht, den perfekten Ort für Sie zu finden.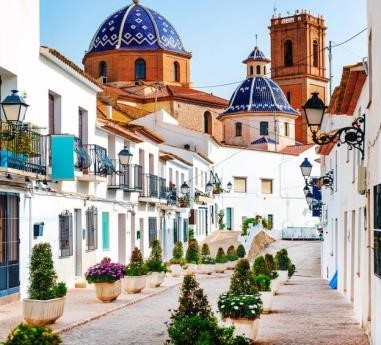 Hier ist für jeden etwas dabei und erfüllt die wichtigsten Ansprüche für Ihr neues Zuhause! Direkt am Meer, im Zentrum der Stadt oder abseits in einem ruhigem Örtchen.
Erfüllen Sie sich Ihren Traum in Alicante!